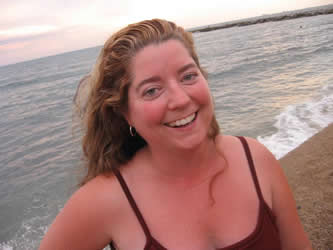 Terry received her massage training from the Brenneke School of Massage in Seattle, WA. in 2001.
She is also a member of the American Massage Therapy Association (AMTA) and is a Certified Pregnancy Massage Therapist (CPMT).
Terry has a private practice in Fremont inside Dragonfly Holistic Healing Center. She also provides hospice massage in Providence Hospice of Seattle.
In her spare time Terry enjoys hiking, traveling, playing guitar and recently took up running and training for 10ks.
Choose from a variety of techniques:
A general full body massage, which is most beneficial for general relaxation, relaxing the muscles and nerves for an overall feeling of well-being.
A therapeutic massage focusing on a specific muscle group. The therapist will use a combination of Swedish and Myofascial techniques along with heat therapy and stretches to promote injury recovery.
Pregnancy massage is a technique specifically designed for the childbearing year that is safe and for easing common discomforts of pregnancy as well as promoting maternal and fetal well-being.
Pregnancy massage eases aches and pains, increases flexibility, reduces excess fluid retention and relieves headaches caused by tension, constipation or buildup of metabolic waste products.
Reflexology is a "pressure therapy" and involves applying focused pressure to certain known "reflex" points located in the foot, which correspond to certain other areas in the body. Benefits include increased circulation, relaxation and release of tensions.
Chair Massage is a seated and clothed massage. Usually done in 10, 15 or 30 minute increments, it is based on Shiatsu and is meant to revitalize and energize the recipient. It is a great way to introduce massage and events such as office parties and festivals.
Hospice Massage can either be done on a massage table, in a bed, a wheelchair or a couch. It depends on the mobility of the patient. Hospice Massage is used to improve circulation, ease breathing, induce restful sleep, help improve digestion, elimination and mental clarity. It also aids in reducing joint stiffness, anxiety and promotes faster healing from injury or trauma.
Reiki is a subtle, gentle yet powerful hands on healing that benefits your physical, mental, spiritual and emotional well being. It's a wonderful way to allow yourself to bring balance to your body.